Over one hundred years ago, in 1906, R. Goodman founded a trimming merchants in Leeds serving the tailoring trade. The company, which was located at 68 North Street, was incorporated in 1930.
Abe, the eldest of two sons, was passionate about the business and had the vision to move into the home-dressmaking market in the 1950s, opening two shops in Harrogate's Lowther Arcade.
When Abe passed away suddenly in 1968, his daughter Drusilla stepped in as a temporary measure, putting her own career as an orthoptist on hold. As Duttons for Buttons celebrated its 60th Anniversary, Drusilla was still at the helm, aged 85, running Duttons for Buttons with tireless energy and infectious enthusiasm.
In the late 1960s, the original shop in North Street closed down, a victim of the declining hand tailoring trade and a shift in the modernised city centre. Drusilla, meanwhile, added new shops across Yorkshire: in Otley, Ilkley, York and Keighley and, in the 1990s, back to Leeds in the newly refurbished Victoria Quarter. Like her father, she embraced the latest needlecraft trends and inherited his love of buttons, eventually sourcing over 12,000 different designs from all over the world. 
When Drusilla passed away in 2016, her daughter Deborah – great granddaughter of the founder – took over the family business. Drusilla's legacy was of thriving shops with an international reputation, held in great affection by button enthusiasts, stitchers and needle-crafters the world over.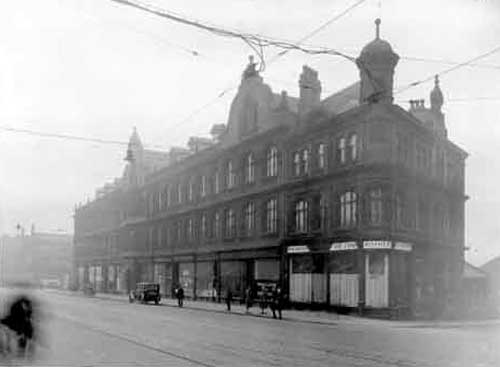 In 1956, Abe Goodman, excited by the burgeoning popularity of home dressmaking, took over a small lingerie shop owned by a Mrs Dutton in Harrogate's Lowther Arcade: Duttons for Buttons was born. He then opened a second shop, also in the arcade, to sell ribbons.
After a major fire swept through the arcade in 1988, most of the Victorian structure, with its cast iron balconies and mosaic floors, was destroyed along with many of the shops that resided there. Although Duttons for Buttons survived, the Victorian arcade was condemned and subsequently demolished in 1996.
Duttons for Buttons was re-housed in a new shop opposite where the arcade had stood, next to the Harrogate Theatre on Oxford Street, where it remains today.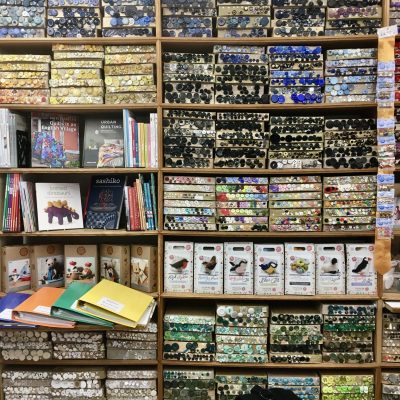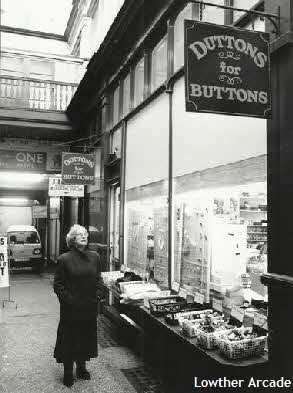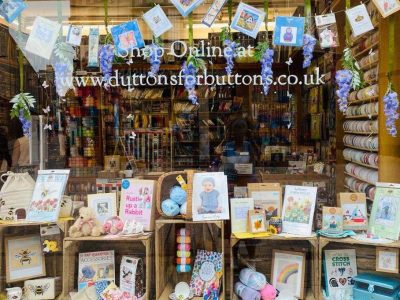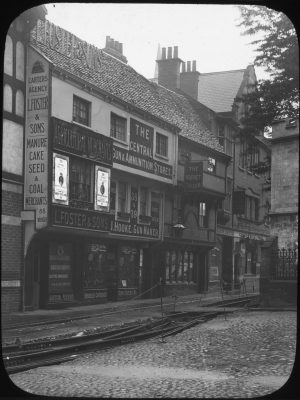 Duttons for Buttons at 32 Coppergate, York is housed in a medieval building built in 1422. It was part of the home of William of Alne, a wealthy York merchant and one-time Lord Mayor of York.
The house's many original features can still be seen, including its jettied frontage, its timber-framed wattle and daub walls and its magnificent timbered roof structure, found in the 1980s behind a false ceiling of polystyrene tiles. In 2019, the building's exterior was extensively and sensitively restored and refurbished. 
Visitors are welcome to view our architectural heritage or learn new stitching skills in our monthly Heritage Workshops, held in the Medieval Room.